MULLERTHAL ROADBOOK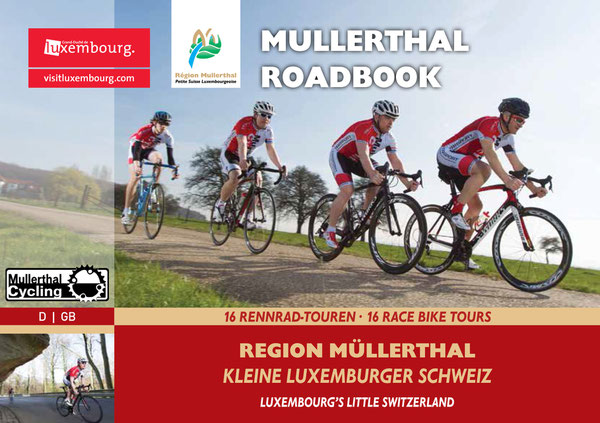 Willkommen im Radland Luxemburg !
Die Region Müllerthal - Kleine Luxemburger Schweiz - liegt im Osten des Landes und ist schnell von den Ballungsgebieten aus Deutschland, Frankreich, Belgien und den Niederlanden zu erreichen.
Es handelt sich um eine Mittelgebirgslandschaft mit verkehrsarmen Strassen, die mit einem guten Belag ausgestattet sind.
Sie werden selbst feststellen, wie viel Spaß es macht, die kurvigen Trainingsstreckender luxemburgischen Rennradprofis zu erkunden und dabei die Höhepunkte der Natur hautnah zu erleben.
Sie fahren vorbei an beeindruckenden Felsformationen, ruhigen Bachtälern und erfreuen sich während der Fahrt an kulturellen Perlen wie beispielsweise Echternach, die älteste Stadt Luxemburgs, und den Burgruinen von Beaufort und Larochette.
Welcome to Luxembourg bike country !
The Mullerthal region - Luxembourg's Little Switzerland - is located in the east of the country and can be quickly reached from the metropolitan areas of Germany, France, Belgium and the Netherlands.
It is a low mountain landscape with low-traffic roads, which are equipped with a good surface.
You will see for yourself how much fun it is to explore the winding training routes of Luxembourg's professional racing cyclists and experience the highlights of nature up close.
You will ride past impressive rock formations, quiet stream valleys and enjoy cultural gems such as Echternach, Luxembourg's oldest city, and the castle ruins of Beaufort and Larochette during the ride.
Bienvenue au Luxembourg, pays du vélo !
La région du Mullerthal - Petite Suisse Luxembourgeoise - se situe à l'est du pays et est rapidement accessible depuis les agglomérations d'Allemagne, de France, de Belgique et des Pays-Bas.
Il s'agit d'un paysage de moyenne montagne avec des routes peu fréquentées et dotées d'un bon revêtement.
Vous constaterez par vous-même à quel point il est agréable de découvrir les parcours d'entraînement sinueux des cyclistes professionnels luxembourgeois et de vivre de près les points forts de la nature.
Vous passerez devant des formations rocheuses impressionnantes, des vallées de ruisseaux tranquilles et vous profiterez de perles culturelles comme Echternach, la plus ancienne ville du Luxembourg, et les ruines des châteaux de Beaufort et de Larochette.
Welkom bij Fietsen in Luxemburg !
De regio Müllerthal - Luxemburgs Klein Zwitserland - ligt in het oosten van het land en is snel bereikbaar vanuit de agglomeraties van Duitsland, Frankrijk, België en Nederland.
Het is een laag berglandschap met wegen met weinig verkeer en een goed wegdek.
U zult zelf ontdekken hoe leuk het is om de kronkelende trainingsroutes van de Luxemburgse professionele wielrenners te verkennen en de hoogtepunten van de natuur van dichtbij mee te maken.
U rijdt langs indrukwekkende rotsformaties, stille beekdalen en geniet tijdens de rit van culturele pareltjes als Echternach, de oudste stad van Luxemburg, en de kasteelruïnes van Beaufort en Larochette.